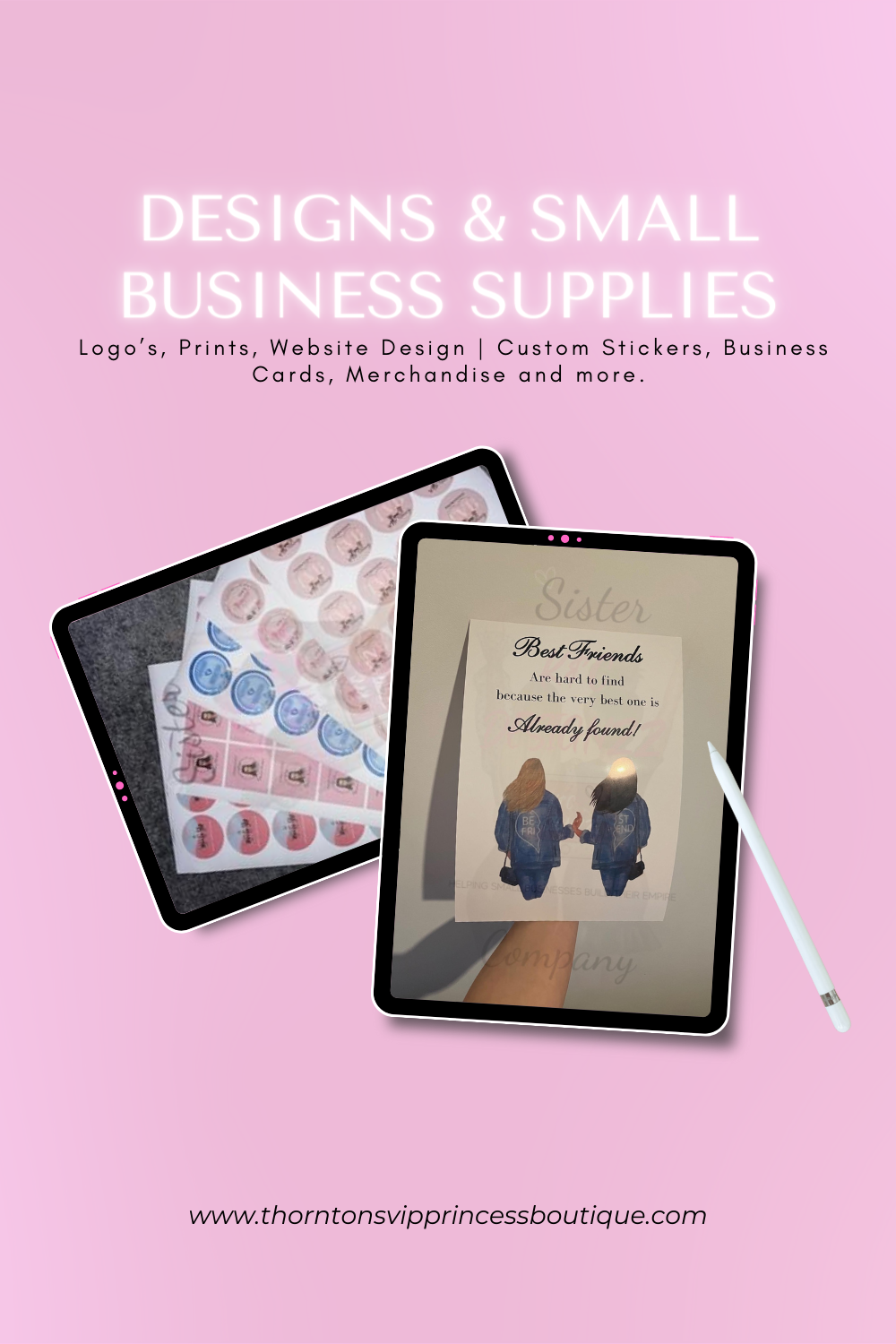 K&C Designzz - Sister Company
At our Company, we are proud to have a Sister Company called K&C Designzz that offers a wide range of creative services to help Small Businesses elevate their brand image while staying within their budget. K&C Designzz specializes in creating high-quality Logos, Prints, Website Designs, Custom Stickers, Business Cards, Merchandise, and much more. Our services are tailored to the unique needs of each client, and our experienced team is dedicated to delivering exceptional results that help Small Businesses stand out in today's competitive marketplace. Whether you are just starting or looking to refresh your brand image, K&C Designzz can help you achieve a luxurious look without breaking the bank.
Shop now
Featured Collection
Check out our most popular Products this week!
Story Behind The Business
In 2020 when the first lockdown happened I wanted to do something new, something different and something that I could be proud of and say "Yeahh! I created that, that's my Business right there!"🙌

I've always wanted to own my own Business as I were that person that would join Company's as an Affiliate but it never used to work out for very well and I wanted to do something of my own and work for myself. I have always loved my Beauty and Fashion, being a girly girl has always been me…but what girl isn't right? I went online and did some research and started putting ideas together and making a plan of things I loved and wanted to do. Seeing it all being planned out just inspired me even more and gave me that extra nudge and one day I just said to myself right let's do it, let's go make this a reality and go get them girl! It we're then from that day that my ideas started to grow even more and I was up all of the time with lots of late nights putting my visions together and getting things all set up to successfully make my dreams happen!☁️✨
I started of small selling at first on popular social media sites such as Facebook and Tiktok. It were becoming surprisingly popular and I had more interest then I had ever imagined at the very beginning 3 years ago. I went on to setting up a website for a smoother and much more convenient way of operating and then a few months later I decide to open up an Affiliate Programme offering a simple work from home opportunity for other Queens to share the love online just like me! And that is when Thornton's VIP Princess Boutique was born and became Official!🎉

The Company has grown so much over the past 3 years in countless ways. We've had so many new Product and Collection Launches such as our Boutique, VIP Soak and Bloom, Russian Lashes and a big special one that is very close to my heart being EJ's Blue Collection created and named after my little boy Ezra and so much more...We have even been lucky enough to be able to launch our very own Branded Cosmetics which is a massive achievement for me, as some of you may be aware of our famous Luxury VIP Beauty Blender one of our customers favourites from our VIP Collection. Being able to launch my very own Cosmetics line is honestly a dream come true never in a million years did I ever think I'd get to that point but I am so grateful and hopefully one day our Cosmetics will be sold in High Street Cosmetic Stores.🛍️
We are continuously branching out and offering a larger variety of products and services. Starting up my Business were hard and I wanted to do something that would also help other Small Businesses. Getting your Business set up, Designing your Logo and Content and getting a website set up is very time consuming and hard work and I wanted to offer an affordable service like this within our Company to support fellow Small Business Owners. With my partner being a qualified Graphic Designer and qualified in Business Studies we had a chat and put the ideas together and decided to create a Sister Company called K&C Designzz with Thornton's offering Digital Designs and Small Business Supplies. We offer services such as Logo's, Social Media Content, Website Design and more all at a budget friendly price!🔥
It's amazing and wholesome to see the support and massive response that we have had and I will always be eternally grateful for all of the love, it's not always about the sales it's just so rewarding seeing so much interest and love towards my Business something that I created. It makes me feel so wholesome to see and makes me very proud. It defenitely makes all the hard work worth it! What started out as a small hobbie to now being an Official Company with an Affiliate Program and an evergrowing team of such lovely individuals is so amazing to see..the growth from where we started to now!💕

My next goal is to make this my full time job and get a unit so I can be a full time stay at home mummy to my little boy and be able to provide more for my Family without having to leave them to go to work everyday. They are my reason and inspiration in life and I hope to make them proud. I will forever be grateful to have been given this oppourtunity and to get to share my love and passion with others and I just can't wait to see how far we end up in years to come and all the new achievements that will happen along the way. I know things like this are a long road but I am willing to walk down that road no matter how hard it may get as I am dedicated to reach that line one day and be a huge well known operating Company and say I made it above a building with my name on it!😍🙌

Thank you so much to each and every single one of you that has supported me so far in my journey and I hope that you will continue to follow and support me as things are only going to get much bigger and better from here and you definitely do not want to miss out, We've only just started, see you there VIP Queens!👑🩷
Love The CEO at Thornton's VIP Princess Boutique💋X
Regular price
Sale price
$0.00 USD
Unit price
per
🔥👇Popular Collections👇🔥
Marshmallow Sponges

Our Company sells super soft and squishy beauty blenders that are perfect for achieving a flawless makeup application. Our beauty blenders are made from high-quality materials that are gentle on the skin and provide a seamless blend for a natural-looking finish. They are easy to use and can be cleaned easily for repeated use. Whether you are a professional makeup artist or a makeup enthusiast, our beauty blenders are an essential tool in your makeup kit. Try our super soft and squishy beauty blenders today and experience the difference for yourself.

Russian Strip Lashes

We offer a wide range of strip eyelashes to suit everyone's preferences. Whether you are looking for small and natural-looking lashes, medium volume lashes for everyday wear, or big and fluffy Russian style lashes for a glamorous look, we have it all. Our strip eyelashes are made from high-quality materials that are lightweight and comfortable to wear, while still giving you the desired effect. They are easy to apply and can be reused multiple times with proper care. With our extensive range of strip eyelashes, you can find the perfect style to enhance your natural beauty and achieve the look you desire.

Cosmetics

We are proud to offer a large range of cosmetics from various brands, including popular high street brands such as NYX, Kylie Cosmetics, Rimmel London, and more. Whether you are looking for a bold lipstick, a shimmery eyeshadow, or a long-lasting foundation, we have it all. Our products are made from high-quality ingredients and are designed to enhance your natural beauty while providing excellent coverage and long-lasting wear. We are committed to offering our customers a wide range of choices, so they can find the perfect products to suit their individual needs and preferences. Shop with us today and discover our extensive range of cosmetics from some of the biggest names in the industry.

Press-on Nails

Our Company specializes in providing customers with high-quality press on nails. We offer a variety of colors, styles, and designs to choose from, ensuring that there is something for everyone. Our press on nails are easy to apply and remove, making them perfect for those who want a beautiful manicure without the hassle of going to a salon. We are committed to providing our customers with a convenient, affordable, and fashionable alternative to traditional nail polish, so they can achieve their desired look at any time and from the comfort of their own home.
Check out to see what our Customers have to say about us!👉